Browse through the menu to choose your perfect coffee or ask one of our team if you prefer your coffee a certain way.
Then just sit back, relax and enjoy your freshly ground Brewer & Bean coffee, made with care by our trained baristas.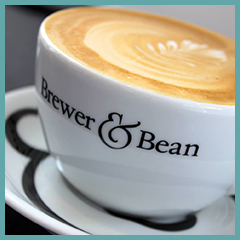 Our selection of classic coffees.
Perfect for coffee aficionados; simple styles that let the qualities of our coffee shine through.

Espresso
A real treat for the coffee lover, a short, intense shot of coffee.

Macchiato
Intense espresso, 'marked' and sweetened with glossy foam.

Americano
The classic long black coffee, hot water topped with delicious espresso.

Flat White
A strong double espresso combined with velvety steamed milk.
Our selection of specialty coffees.
Something a little different from the simple cup of coffee - indulge in rich flavours and creamy textures.

Café Latte
A combination of espresso, smooth milk and a thin layer of foam.

Cappuccino
A smooth mix of foamed and steamed milk with espresso.

Café Mocha
An infusion of milk chocolate sauce, steamed milk and rich espresso.

Iced Coffee
Smooth milk and espresso simply over ice.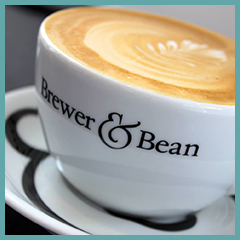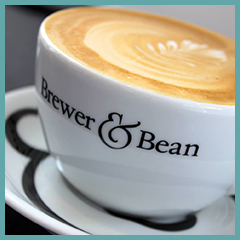 Our range of teas, chocolate & treats.
From classic pots of tea, to luxurious hot chocolates; there is something to treat every taste here.

Pot of Tea
Your choice of blend served with cold milk and extra hot water.

Herbal/Fruit Infusion
Whole leaf herbal or fruit tea

Hot Chocolate
Steamed chocolate milk and milk foam with cocoa dusting.

Deluxe Chocolate
A classic hot chocolate with whipped cream and marshmallows.
Our selection of options and extras.
Do you like something a little different? Add an extra shot, a new flavour or go skinny; have it your way.

Extra Shot
Add an extra shot of espresso to any coffee for a stronger taste.

Monin Syrup
Add a shot of flavoured syrup to any of our coffees for sweetness and taste.

Decaf
Any of our coffees or teas can be made decaffeinated - just ask.

Skinny
If you'd prefer a lighter option, we can use skimmed milk.